"Never Go, Never Know"  – Lost Ring Recovered 
Meredith called me and was not happy. Her husband had lost his wedding ring while in the water at Beach 69 in Puako, just up the road from the famed Hapuna Beach.
They'd waited three days before calling – having spent their time snorkeling to look for it. Should they call me to look for it professionally, or just assume it was lost to the water and waves of Hawaii's Big Island? They didn't know what to do. "Was there a chance I'd find it before returning home to Vancouver tomorrow?" she asked.
I've found lost rings up to a month after being lost and asked her about the ocean conditions. Beach 69, like Hapuna, can have a vicious west swell so I'm cautious with my predictions due to waves and current.  Conditions were calm and the water clear she assured me. I got to the beach and conditions were excellent – the water was clear and there was barely a ripple.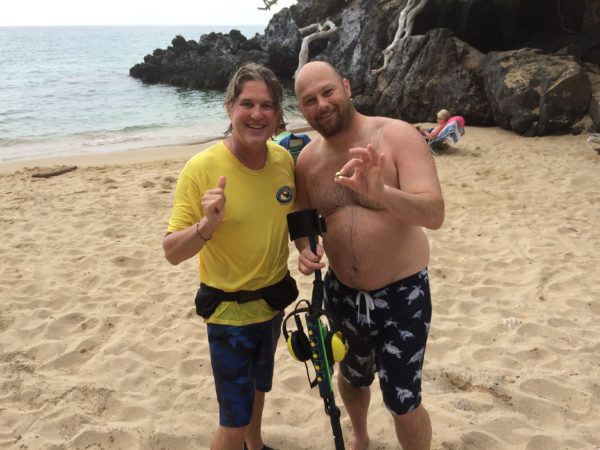 Meredith's husband met me on the beach and showed me how he'd been throwing a football (he's left handed) in the water and getting tackled by his brother-in-law. It could be anywhere along a semi-rocky area 100 feet long just off the sandy beach. I started my search at the deepest point in the water that I could reach to beat the rising tide, hoping all along that the ring hadn't gone flying off his hand into yet deeper water.
I combed the sand-and-stone bottom carefully and as I got shallower, with more breathing room, could get creative. I asked where the guys had gone charging into the water, where the tackles happened and where they'd snorkeled. In the end, I decided to start my search in the general area where he'd first gotten into the water. Back and forth I went, hearing nothing through the headphones – and then a big signal.
I dropped to the stony bottom underwater on my knees and fanned the sand with my hand to expose the target below. Nothing. I did it again, going deeper through small stones and sand. Suddenly a massive gold ring with a central platinum band emerged out of the hole. In only three days in the water, the ring had been buried – deeper and deeper – by its shear weight and the gentle motion of the waves.
I held the ring in my hand underwater and admired it, thanked God for letting it still be there, then surfaced. Meredith rushed out and her sister-in-law started clapping as did others on the beach who'd been watching the search.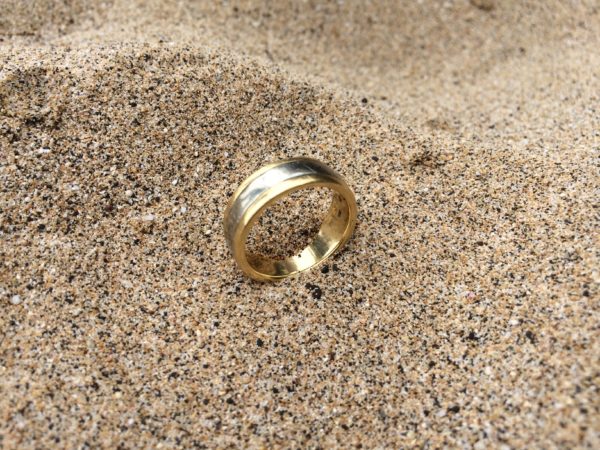 "I didn't think you'd find it!," she said before taking it and swimming back to shore with it tightly in her hand. Her husband swam over from deeper water and congratulated me. He told me they'd thought it would be on the ocean floor forever – that they had called me as a last desperate move, a final Hail-Mary as it were before heading back to Canada.
To find lost rings, we can never know what the final outcome will be – though, my wife Sylvie often says, "Never go, never know."
Call us at Big Island Metal Detecting to find your lost ring on the Big Island of Hawaii. We're Hawaii's TRUSTED metal detecting and ring recovery service. (808) 430 – 5660.